September Breakfast with Matthew Evans, CEO of the Tourism Marketing Group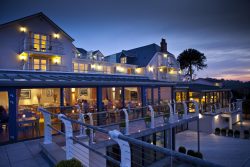 Location: St. Brides Hotel & Spa, Pembrokeshire
Matthew Evans, CEO of the Tourism Marketing Group will be speaking at the Swansea Bay Business Club September Breakfast. This event is kindly sponsored by Morgan La Roche.
Matthew is the CEO of the Tourism Marketing Group that owns and manages Coastal Cottages of Pembrokeshire, Coasty Property and Estates and Tremendous Marketing.  He is also the co founder and CEO of Activity Wales Events.
Coastal Cottages is the leading self catering company in the country, specialising in the top end of the market. With over 500 cottages in Pembrokeshire, they market to customers throughout the world, across many platforms.
Matthew, with Co-Founder Scott Powell created Activity Wales Events in 2010 with the launch of The long Course Weekend.  This event is now the largest multi sports event in Europe attracting almost 11,000 athletes, 35,000 supporters from 40 plus countries; it is also Televised in an hour programme to over 100 countries via Sky Sports, Eurosport, Amazon Prime and a host of other digital channels.
The team now operate the Long Course weekend in 4 countries including Holland, Mallorca, Australia and Wales.  As a team they run 26 events throughout the UK and overseas including The Swansea Triathlon, Gower Triathlon, Mumbles Triathlon and Duathlon, Worms Head 10k, Saundersfoot Triathlon and The Wales Triathlon in Fishguard.
Activity Wales Events were also the founders of Ironman Wales, raising funds, designing courses, delivering the community message and ultimately delivering the event in the first years.
In his spare time Matthew has run over 80 Marathons, Run the Marathon Des Sables, Run the Grand Canyon, Completed 19 Ironmans, Swam the Thames marathon (9 miles) twice; Finished as an elite athlete at Norseman and was the first Welsh person to run 10 marathons in 10 days; Raising over 250k for a host of different charities.
He is married to Sophie Evans, Joint CEO of Tourism Marketing Group and they have 4 children.
This event will come to a close around 10am.
To avoid disappointment early booking is recommended.
If the event is full please email [email protected] to be added to the reserve list.
Vegetarian options will need to be pre-ordered before the event.
Remember: You can pay online by card – just choose the Paypal option upon checkout. You do not need a Paypal account, just look for the option to 'Pay by card' on the Paypal login screen.
Refunds/cancellations can only be made/requested no less than seven days prior to any event.
Members & Non Member Prices
Please choose member tickets for all members and their guests. Non members can join the club for as little as £40 per year. Click here to join the club.
For all payment options you will receive a confirmation email which serves as your invoice.
For all queries relating to your event booking, please contact [email protected].
This event is kindly sponsored by Morgan La Roche
Event Sponsor: Morgan La Roche