70th Birthday Lunch with Wynne Evans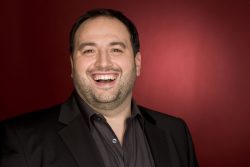 Location: Brangwyn Hall, Swansea
Bookings are now closed and we apologise but no late bookings can be taken for this event.
Every year our flagship lunch is one of the biggest and best events in our calendar and this summer we'll be hosting our 70th birthday party to continue the tradition.
We'll be returning to the iconic Brangwyn Hall on Friday 5th July to celebrate the start of the summer and toast to the past 70 years that has seen Swansea Bay Business Club grow in to the platinum business networking group in the Swansea Bay City Region.
Joining us as guest speaker for this special event will be Welsh favourite and Mr. Go Compare himself, Wynne Evans. As one of the UK's leading tenors, who better to sing us Happy Birthday than Wynne?
One of the most popular broadcasters in Wales, Wynne hosts a daily show on BBC Radio Wales and regularly presents television series on BBC One and Two Wales as well as S4C. He also fronts one of the most recognisable advertising campaigns of all time for insurance comparison website 'Go Compare'.
As well as his work in the limelight, Wynne runs a trust in memory of his late mother, Elizabeth Evans MBE that sponsors young Welsh people who wish to study for a career in the performing arts. He is also an ambassador for St Johns Wales, The Teenage Cancer Trust and The British Heart Foundation.
Expect our flagship event this year to go above and beyond with a drinks reception, birthday cake, party games and even entertainment from mind-boggling magician, Phil Jay.
We have also confirmed entertainment from mind-boggling magician, Phil Jay. Phil has performed magic all over the world for almost 30 years and now works closer to home in South Wales. Formerly named the number one close up magician in the UK, Phil will be entertaining guests during our drinks reception as well as going table to table displaying close up magic that your eyes will find hard to believe.
Tickets to our Flagship lunch with Wynne Evans will cost £40 for members and £49.50 for non-members. This will include a three-course lunch and all our birthday entertainment.
Guests are asked to arrive at the Brangwyn Hall from 12:15 for a drinks reception. We will be seated for lunch at 1pm. The event will finish at approximately 4:00 pm.
Many thanks to our season sponsors, Prescott Jones, our drink's reception sponsor ND John Wine merchants and to Bevan Buckland our table plan sponsors.
Bookings will close at midnight on Friday 28th June, one week before the event.
To avoid disappointment early booking is recommended.
You can pre-order wine for the event. Please follow the link to do so: http://www.jr-events.co.uk/brangwyn-wine-pre-order-form
To start where it all began
1949 retro Spinach, mushroom & gruyere vol au vant, with pea shoots & Balsamic reduction
To Follow
Slow cooked confit of belly pork, served with roast new potatoes, honey glazed carrot & fine green beans, with an apple & cider jus
Mushroom Wellington (v)
To 'Celebrate' a Toast to 70 years
A glass of Prosecco Jelly, with raspberry
Remember: You can pay online by card – just choose the Paypal option upon checkout. You do not need a Paypal account, just look for the option to 'Pay by card' on the Paypal login screen.
Paying by Cheque: If you would like to pay by cheque please choose "pay by cheque" at the payment options page. You will be emailed payment instructions.
Refunds/cancellations can only be made/requested no less than seven days prior to any event.
Celebration lunches – The event will come to a close around 4pm
Members & Non Member Prices
Individual members may book member priced tickets for them and one guest.
Corporate members may book unlimited tickets at member prices.
Non-members can join the club for as little as £40 per year. Click here to join the club.
For all payment options you will receive a confirmation email which serves as your invoice.
For all queries relating to your event booking, please contact [email protected].