June Lunch with Janice Richards OBE, Head of the Garden Rooms and the No.10 Correspondence Section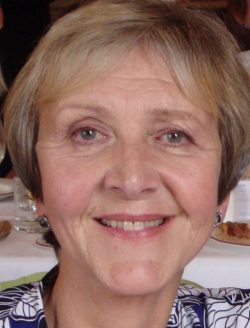 Location: TBC
The Club is delighted to welcome Janice Richards OBE as its guest in June, to talk about some of the activities that went on behind the most famous front door in Britain.
A former Head of the Garden Rooms at No 10 Downing Street, Janice was ensconced at the Prime Minister's home for almost three decades performing secretarial duties for a succession of Prime Ministers during some of the most exciting and tumultuous years of British politics.
Janice worked at Downing Street from 1971 to 1999, during the tenures of Edward Heath, Harold Wilson, James Callaghan, Margaret Thatcher, John Major and Tony Blair. In her talk, Behind The Black Door, she will share her insights into her experiences, including shedding light upon the 'buzz, enthusiasm and the family atmosphere' that inhabited number 10 during Margaret Thatcher's time as PM.
Janice was at No 10 at the height of the Cold War, and during its subsequent thaw, when Ronald Reagan and Mikhail Gorbachev were frequent visitors to Mrs Thatcher. The Brighton bombing, The Falklands War, the miners' strike, the fall of the Berlin Wall and numerous other world-shattering events unfolded during Mrs Thatcher's time as Prime Minister and Janice will share some of her recollections of the Prime Minister's demeanour through this time. Aside from her observations of unfolding political happenings, many of Janice's recollections will be of the camaraderie and the buzz of being a Garden Room Girl.
To avoid disappointment early booking is recommended.
Remember: You can pay online by card – just choose the Paypal option upon checkout. You do not need a Paypal account, just look for the option to 'Pay by card' on the Paypal login screen.
Paying by Cheque: If you would like to pay by cheque please choose "pay by cheque" at the payment options page. You will be emailed payment instructions.
Refunds/cancellations can only be made/requested no less than seven days prior to any event.
Members & Non Member Prices
Please choose member tickets for all members and their guests. Non members can join the club for as little as £40 per year. Click here to join the club.
For all payment options you will receive a confirmation email which serves as your invoice.
For all queries relating to your event booking, please contact [email protected].