Season Launch Lunch with Sarah Powell, CEO of Sport Wales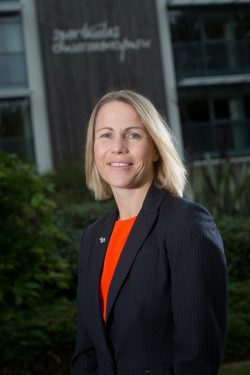 Location: Marriott Hotel, Swansea
Our season launch lunch, kindly sponsored by Swansea Building Society, will be held at the Marriott Hotel in Swansea on Friday 1st February. CEO of Sport Wales, Sarah Powell, will join us as guest speaker for the afternoon.
Sarah is a passionate Welsh sports woman who has been able to combine her love of sport and her professional career. Sarah is the Chief Executive Officer of Sport Wales taking up the role in 2012 and is the first female to hold the position within the organisation.
Educated at Porthcawl Comprehensive, Sarah went on to study Psychology at Swansea University before gaining her PGCE teaching qualification from UWIC. She started her career as a secondary school teacher with the aim of becoming an Educational Psychologist, only to be tempted away to join Sport Wales as part of the National Sport team and then onto be the Director of Elite Sport.
Sarah received an Honorary Doctor of Science from Swansea University in 2017 and is a member of the Universities Advisory Board for Sport and Health Sciences.
Sarah has also held numerous board roles – Ryder Cup Wales Limited, the Commonwealth Games Council of Wales and is a member of the UK Home Nations and UK Sport group. She has been at the helm during unprecedented success for sport in Wales, with Team Wales delivering back-to-back Games records.
Alongside her professional career, Sarah has also captained and coached international hockey, winning over 70 senior caps and playing at the 1998 Kuala Lumpur Commonwealth Games before retiring from international competition. She still manages the odd game for her lifelong club Swansea Ladies.
Sarah's talk will touch on the importance of sport to the wellbeing of our nation and the important contribution the sector makes to growing Wales' economy. Sarah will explain the role Sport Wales will play in looking to ensure that the people in Wales live physically active and healthier lives, that children have the opportunities to take part in physical activity for life and also that Wales is recognised internationally as a sporting nation.
Please see the dinner menu below. Vegetarian options will need to be pre-ordered before the event.
Menu
Starter
Poached salmon, beetroot salad, horseradish crème fraiche
Heritage Tomato & mozzarella salad, focaccia, basil oil (v)
Main Course
Pressed lamb shoulder, boulonger potatoes, root vegetables, minted gravy
Roasted cauliflower, isreali cous cous, confit tomato dressing (v)
Swansea Bay Business Club's season launch event will be held on Friday 1st February at the Marriott Hotel in Swansea.
Tickets for the event will cost £25 for members and £32.50 for non-members, this will include a two-course lunch.
Guests are asked to arrive from 12:15 for a 1pm lunch.
To avoid disappointment early booking is recommended.
Remember: You can pay online by card – just choose the Paypal option upon checkout. You do not need a Paypal account, just look for the option to 'Pay by card' on the Paypal login screen.
Paying by Cheque: If you would like to pay by cheque please choose "pay by cheque" at the payment options page. You will be emailed payment instructions.
Refunds/cancellations can only be made/requested no less than seven days prior to any event.
Members & Non Member Prices
Individual members may book member priced tickets for them and one guest.
Corporate members may book unlimited tickets at member prices.
Non-members can join the club for as little as £40 per year. Click here to join the club.
For all payment options you will receive a confirmation email which serves as your invoice.
For all queries relating to your event booking, please contact [email protected].
The event is kindly sponsored by Swansea Building Society

Event Sponsor: Swansea Building Society