September Lunch with Mark Davies, CFO of NewRiver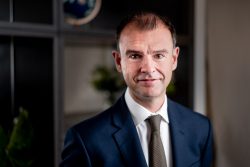 Location: Liberty Stadium, Swansea
For our September lunch we will be welcoming Mark Davies, the Chief Financial Officer of NewRiver and Chairman of Pub REIT Board Hawthorn Leisure, as guest speaker at the Liberty Stadium in Swansea.
The lunch will be held on Friday 25th September and our members and their guests will be treated to a two-course lunch whilst being able to take full advantage of the opportunities to network with other members of the business community from across the Swansea Bay City region.
A Chartered Accountant with over 20 years' experience in finance, our guest speaker started his career as a professional football player with Wolverhampton Wanderers FC before his accountancy training with Carr Jenkins and Hood in Swansea where he qualified. Prior to joining NewRiver as Chief Financial Officer in 2009, Mark was CFO of Exemplar Properties and Finance Director of Omega Land, a £1bn property JV with Morgan Stanley.
At NewRiver, Mark also has responsibility for their portfolio of over 700 community pubs and is the Executive Chairman of the Pub REIT, the seventh largest in the UK.
Mark's talk will touch on how he helped NewRiver grow their business into a FTSE250 company and become one of the UK's leading REITs and pub owning companies. He has extensive experience in many areas of property finance including capital markets, debt restructuring, hedging, and more. He will no doubt provide valuable insights for the members of our business community.
Tickets to Swansea Bay Business Club's September lunch with Mark Davies are priced at £25 for members and £32.50 for non-members. This will include a two-course lunch. The event will come to a close around 3.30pm
Bookings will close at midnight on Friday 18th September, one week before the event.
The lunch will be held at the Liberty Stadium and guests are asked to arrive from 12:15 for a 1:00pm lunch.
To avoid disappointment early booking is recommended.
If the event is full please email [email protected] to be added to the reserve list.
Vegetarian options will need to be pre-ordered before the event.
Remember: You can pay online by card – just choose the Paypal option upon checkout. You do not need a Paypal account, just look for the option to 'Pay by card' on the Paypal login screen.
Refunds/cancellations can only be made/requested no less than seven days prior to any event.
Members & Non Member Prices
Please choose member tickets for all members and their guests. Non members can join the club for as little as £40 per year. Click here to join the club.
For all payment options you will receive a confirmation email which serves as your invoice.
For all queries relating to your event booking, please contact [email protected].