Business Club Head In To Summer Break With Stephen Kinnock MP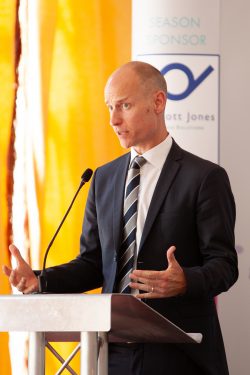 Swansea Bay Business Club has held its last networking event before its annual summer break, at the Margam Orangery with guest speaker Stephen Kinnock MP.
The local MP joined members and their guests at a sold out networking lunch to talk about many of the major topical issues being discussed in the region, including the recent decision on the Swansea Bay Tidal Lagoon project, the TATA Steel merger and the impact of Brexit on the Welsh economy.
President of Swansea Bay Business Club, Paul Gardner commented: "It was fantastic to be joined by Stephen at another sold out event and as we expected he proved to be extremely popular amongst all of our guests.
"His knowledge of European politics made for a very interesting talk, which particularly centred on Brexit and his preference for the EEA/Norway model. He wasn't afraid to be controversial and we welcomed his willingness to respond to direct questions from our guests as they probed deeper in to some of the issues that are affecting them as businesses."
The lunch was the business club's fifth networking lunch in their season of events and the last before a traditional summer break. Speakers in the second half of their networking calendar will include Jonathan Davies OBE and Alec Don, Chief Executive of the Port of Milford Haven.
Paul continued: "We will now be taking a short break over the summer to recharge our batteries before returning in September with two events, our business breakfast in Saundersfoot and a lunch at the Liberty Stadium towards the end of the month."
The business breakfast will be held at St Bride's Hotel in Saundersfoot on Wednesday September 5 at 8 am. Tickets to the event are priced at £15 for members and £17.50 for non-members.
The Port of Milford Haven has kindly sponsored the breakfast and their Chief Executive Alec Don will be guest speaker at the event, discussing the new multi-million pound waterfront development.