Ffos Las Backs A Winner By Sponsoring Beaujolais Day Event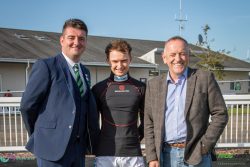 Ffos Las Race Course is backing a winner by sponsoring Swansea Bay Business Club's upcoming Beaujolais Day lunch – one of the most popular events in the Business Club's calendar.
The event brings together members of the business community from across the Swansea Bay region, on Thursday, 21 November, for what has become a major day of celebration in the city.
Simon Rowlands, General Manager at Ffos Las Racecourse, said: "We are very pleased to back Swansea Bay Business Club's big Beaujolais Day celebration. We know first-hand how important this day is within the region and, as a neighbouring business which welcomes thousands of corporate clients through our gates every month, it is important that we support key business events such as this.
"We have a lot of racing themed activities and games planned for the event, so it should be a fun lunch – and perhaps it will be a small taster of the kind of enjoyment race-goers get at Ffos Las, for those who have yet to visit us." 
Alan Brayley, Acting President of Swansea Bay Business Club, said: "We are delighted that Ffos Las, our neighbour in Trimsaran, has agreed to sponsor the Club's Beaujolais Day lunch, with comic, Mike Bubbins as our guest speaker. As a club, our members come from across the Swansea Bay City Region, including Carmarthenshire, and we are pleased to hold several of our events throughout the year in this area. So, it is important that we maintain strong ties with Ffos Las, as a key Carmarthenshire venue.
"The Beaujolais Day lunch is one of our more light-hearted events and we are looking forward to enjoying some racing themed fun on the day. We would encourage our members and visitors to book early for this one, which goes ahead at the Marriott Hotel, in Swansea, as ticket are selling quickly."
Bookings will close at midnight on Thursday, 14 November, one week before the event. The lunch will be held at the Marriott Hotel Swansea and guests are asked to arrive from 12:15pm for a 1pm lunch.