Former Director of BT Wales Made a Sound Connection With Swansea Bay Business Club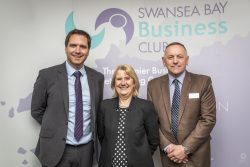 Swansea Bay Business Club welcomed Ann Beynon OBE to its networking lunch on Friday April 5th at the Village Hotel in Swansea.
The former director of BT Wales was guest speaker at the well-attended event, which was sponsored by Swansea-based Hygrove Homes. She joined club members and their guests for lunch at the SA1 based hotel to talk about some of her career experiences and the interface between the public and private sectors.
Acting President of Swansea Bay Business Club, Alan Brayley, said: "Ann gave us some fascinating insights into her corporate life, having held major roles in both the public and private sectors throughout her career. She managed BT's relationship with the Welsh Government and all key opinion formers during her time at the company, as the most senior company representative in Wales.
"This event saw Swansea Bay Business Club returning to Swansea, after holding its last event in Llanelli, demonstrating our on-going commitment to hosting events across the Swansea Bay City Region. It was pleasing to see another strong crowd of new and old faces joining us for the afternoon."
Alan added: "Ann's involvement in so many different areas lends itself to a fascinating talk, and we were all able to take away some great business ideas from the event.
"As Swansea Bay Business Club enjoys its 70th year celebration we're hoping to build on a strong start to 2019 and we continue to aim for our target of attracting 70 new members throughout the year."
Tickets to Swansea Bay Business Club's May lunch, with Lee Waters AM, Deputy Minister for Economy and Transport, are available now for £25 for members and £32.50 for non-members. This includes a two-course lunch. Prescott Jones Insurance Brokers are season sponsors for Swansea Bay Business Club.
Guests are asked to arrive from 12:15 pm for a 1pm lunch.
For more information and to book tickets visit: https://www.swanseabaybusinessclub.com/events/may-lunch/