St David's Day … But Not When You Know It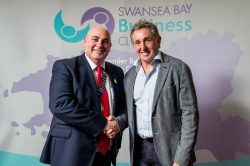 Swansea Bay Business Club continued their 2018 networking season of events with their re-scheduled St David's Day lunch at the Parc-y-Scarlets in Llanelli on Thursday 18th October.
The event, which was originally scheduled for March, had previously been cancelled due to the severe weather conditions and heavy snow, with the safety of guests in mind.
One of Wales' favourite faces, Jonathan Davies OBE, joined members and their guests at Parc-y-Scarlets on Thursday and spoke at length about his career in Welsh rugby, his life after the game, both in the media and in business, and his commitments to charity.
President of Swansea Bay Business Club, Paul Gardner, commented: "Of course we were all disappointed when we had to cancel this lunch back in March but we remained determined to hold the event and were delighted to see so many of those who booked with us earlier in the year finally get their chance to hear from a true Welsh legend.
"Jonathan is no stranger to an audience and as such a popular figure throughout Wales he was the perfect speaker on an afternoon of celebration for our patron saint. We can now look ahead to our upcoming events, both back in Swansea, as we look to get in to the holiday spirit with the year coming to an end."
Continuing their tradition of offering added value to their members and guests, Swansea Bay Business Club is also set to host a free breakfast event in November for the Bank of England Agency for Wales' November Inflation Report Briefing at the Village Hotel in Swansea. Delivering the briefing will be Deputy Agent at the Agency for Wales, Ian Derrick.
Swansea Bay Business Club will also finish 2018 with two celebration events, a Beaujolais lunch on Thursday 18th November and a Christmas lunch on Friday 14th December. Comedian Tiff Stevenson and entertainer Stifyn Parri will be guest speakers at the respective events, ensuring the 2018 networking season draws to a close in style.
Paul continued: "These are two of our most popular events each year and both will undoubtedly sell out so we would strongly advise anyone who would like to attend with work colleagues or clients to book tickets as soon as possible to avoid disappointment."
Tickets to Swansea Bay Business Club's Beaujolais and/or Christmas lunch at the Marriott Hotel in Swansea cost £40 for members and £45.50 for non-members. This will include a three-course lunch.
The Beaujolais lunch will be held on Thursday 15th November and the Christmas lunch on Friday 14th December. Guests are asked to arrive from 12:15 for a 1pm lunch on both occasions.
The Bank of England Ban Agency for Wales' November Inflation Report Briefing will be held at the Village Hotel in Swansea on Friday 9th November at 7:45 am with the event finishing by 9:30am.
For more information and to book tickets visit https://www.swanseabaybusinessclub.com/events/