Swansea Bay Business Club Guest Speaker Shares Taste of Castell Howell Success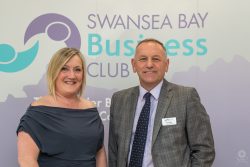 Swansea Bay Business Club enjoyed insights into the success of Castell Howell, when the club welcomed the firm's Sales and Marketing Director as guest speaker at its recent networking lunch, in Carmarthen.
Kathryn Jones shared her insights into being an integral part of one of the most impressive success stories of the food production industry in Wales, at the gathering of the longest-established business networking club in the region, on 14 June. Castell Howell started as a family-run farm in Trevaughan, selling goods to local businesses in the 1980s.  Last year, the company celebrated its 30th year and it is now Wales' largest independent food wholesaler, employing over 700 staff across its wholesale and manufacturing divisions.
Acting President of Swansea Bay Business Club, Alan Brayley, says: "The Castell Howell story is a fascinating one, and the brand has become synonymous with South West Wales. I know our members were pleased to hear insights about its impressive growth, its ethos and its commitment to both its local community and the wider Welsh economy.  Many thanks to our event sponsors, Morgan and Morgan Total Office Solutions."
Alan adds: "We were pleased to return to Carmarthen's Halliwell Centre for our latest Swansea Bay Business Club event, demonstrating our on-going commitment to hosting events across the Swansea Bay City Region. We are very much looking forward to our flagship 70th birthday lunch, where we will welcome TV and radio personality, Wynn Evans to our gathering at Swansea' Brangwyn Hall on 5 July."
Tickets to Swansea Bay Business Club's birthday lunch are available here: https://www.swanseabaybusinessclub.com/events/july-flagship-lunch/ 
Bookings will close at midnight on 26 June, one week before the event, and guests are asked to arrive from 12:15pm for a 1pm lunch.
To avoid disappointment early booking is advised.