Wynne Raises a Glass and a Song To Mark Swansea Bay Business Club's 70th Birthday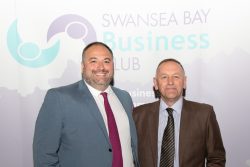 TV and radio star, Wynne Evans, helped Swansea Bay Business Club blow out the candles on its flagship 70th birthday lunch earlier this month.
Wynne, who is known UK-wide as Mr Go Compare, joined the special birthday celebration as Swansea Bay Business Club guest speaker, at The Brangwyn Hall, where a crowd of 200 gathered to celebrate 70 years of fruitful networking for the club. Games, close-up magic from Phil Jay and other entertainment was laid on, at the celebratory event.
The Club's Acting President, Alan Brayley, said:
"This flagship lunch was a real red-letter day for the Club, which is one of the oldest in Wales. This marks decades of support from the club for hundreds of businesses throughout the Swansea Bay City region.  Our 70th birthday celebration gave us good reason to share our favourite memories of the Club, and to look closely at how it has evolved over the decades, in tandem with the evolution of our great city.

"When the Club was formed Swansea was a dock city based on heavy industry. Now it is a professional and a services centre with two large universities, out of which has grown a large number of impressive spin-out businesses. Another very important change is the gender balance of Swansea Bay Business Club – which is now 50 percent women and 50 percent men. This rightly reflects the fact that business women are a vital force for our regional economy.

"We have also had great success with the expansion of our reach and interests into the wider Swansea Bay area, with regular Business Club events being held in Pembrokeshire and Carmarthenshire.  At 400 members we are one of the largest business clubs in Wales and we intend to keep growing and to keep on supporting the businesses that engage with us."