Our President's Chosen Charity
Swansea Bay Business Club has announced 2023's chosen charity of the year, Wales Air Ambulance. Our club president Michael Morgan quoted "We are proud to be supporting this fantastic charity as our President's Chosen Charity for 2023 and helping to raise funds for its life-saving work."
Who are Wales Air Ambulance?
Wales Air Ambulance is a charity which provides 24/7 emergency air cover for those who face life-threatening illness or injuries across Wales. It has grown to be one of the largest and most medically advanced air ambulance operation in Europe.
The charity has carried out over 43,000 missions to date and are on constant standby 365 days a year to ensure they are available to the people of Wales when they need it most. They are entirely reliant on charitable donations so it can continue providing its specialist service right across Wales annually. Each year, £8 million is needed to keep helicopters in the air and rapid response vehicles on the road.
With four advanced helicopters and a fleet of rapid response vehicles, the Charity offers advanced critical care across Wales. It is delivered via a unique Third Sector and Public Sector partnership between the Wales Air Ambulance Charity and the Emergency Medical Retrieval and Transfer Service (EMRTS Cymru).
As a result, the service is consultant-led and is known as a 'flying emergency department', taking hospital-standard treatments to the patient. This includes the ability to administer anaesthesia, deliver blood transfusions and conduct minor operations, all at the scene of an incident.
We're thrilled to be able to offer our support by encouraging our members to engage with the charity and its mission, raising its profile through our monthly networking events, social media posts and promotional opportunities.
How much we have raised for the charity so far:
Annually, Wales Air Ambulance needs to raise £8 million to keep its helicopters in the air and rapid response vehicles on the road.
We have currently raised a total of £2017.50.
To help support Wales Air Ambulance Charity please visit: https://www.walesairambulance.com/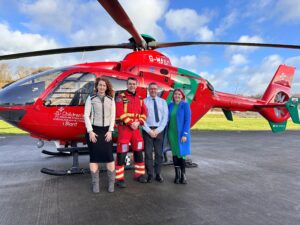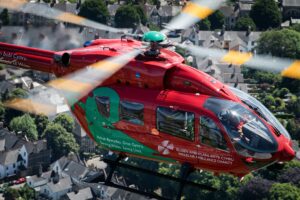 Past chosen Charities of our Presidents include:-
2011-2013
Kath Whitrow- Treat Trust Wales and Swansea Alzheimer's Society
2013-2015
Bruce Roberts- Macmillan- £3000
2015-2017
Hayley Davies- Ty Hafan – £60,000
2017-2019
Paul Gardner- RNLI- £11,000
2019-2021
Alan Brayley- ABF The Soldiers' Charity – £8,060
2021-2022
Michael Morgan- 2022 ABF The Soldiers' Charity – £16,440

2023 Wales Air Ambulance – £TBC